COHIBA Gift Box Cigar Lighter Cutter Set Windproof Torch Jet Flame Gas Butane Metal with Punch Mini Lighter Accessories set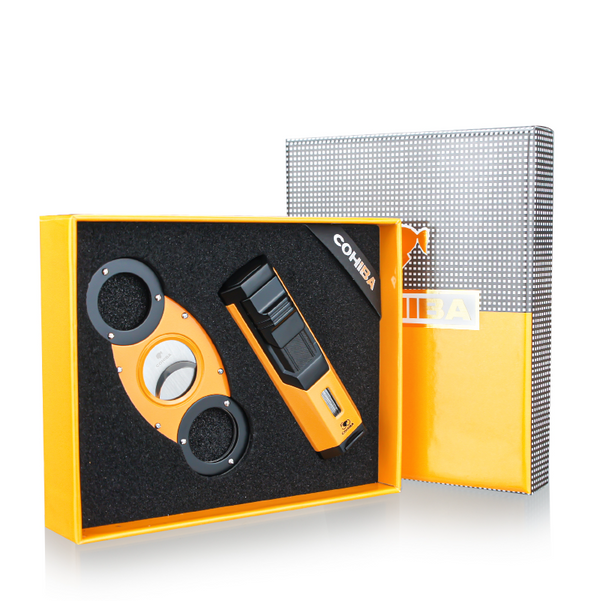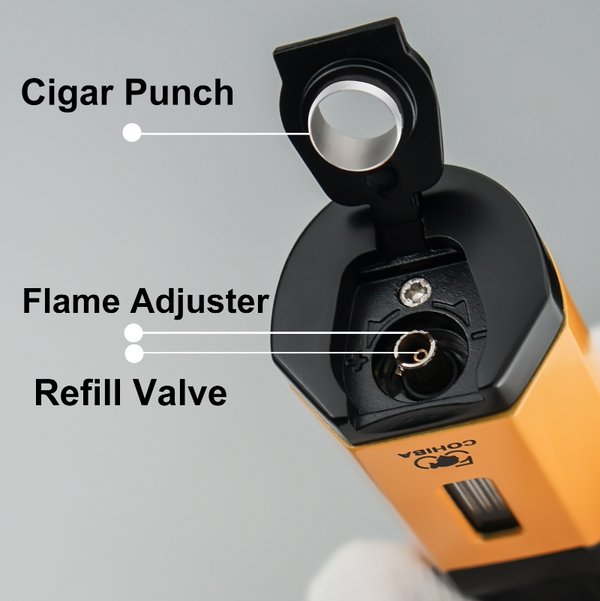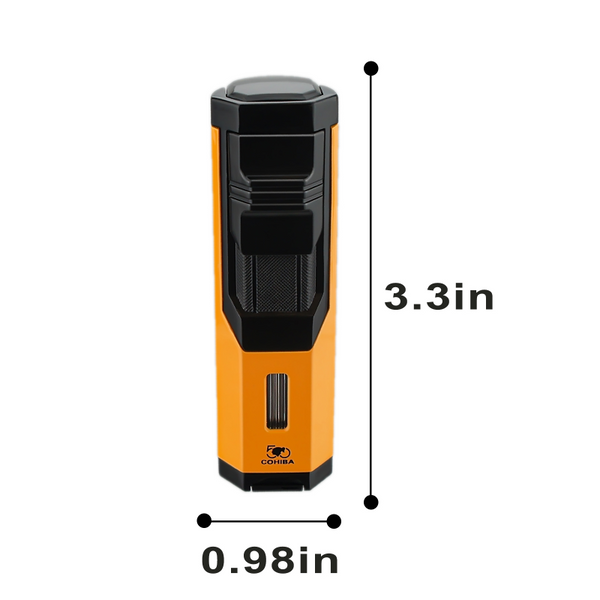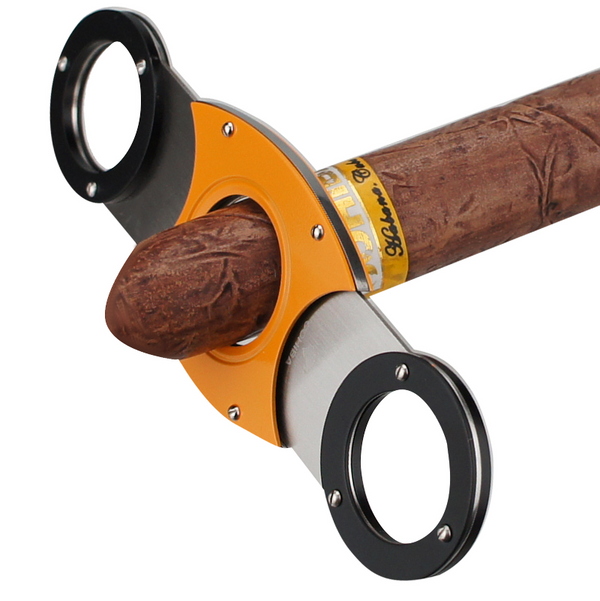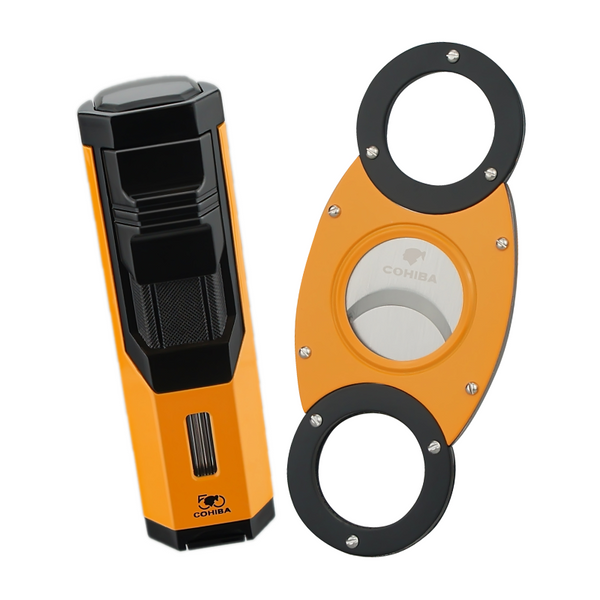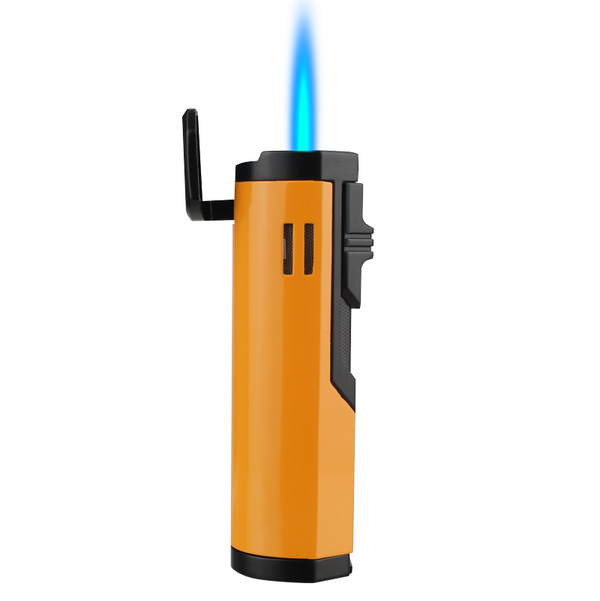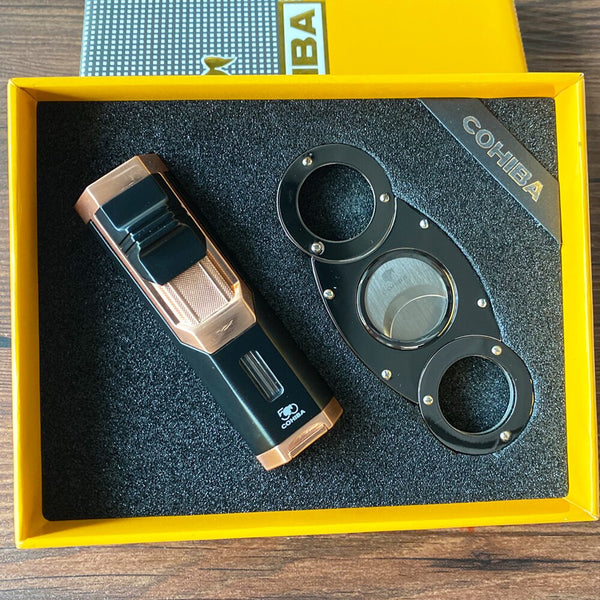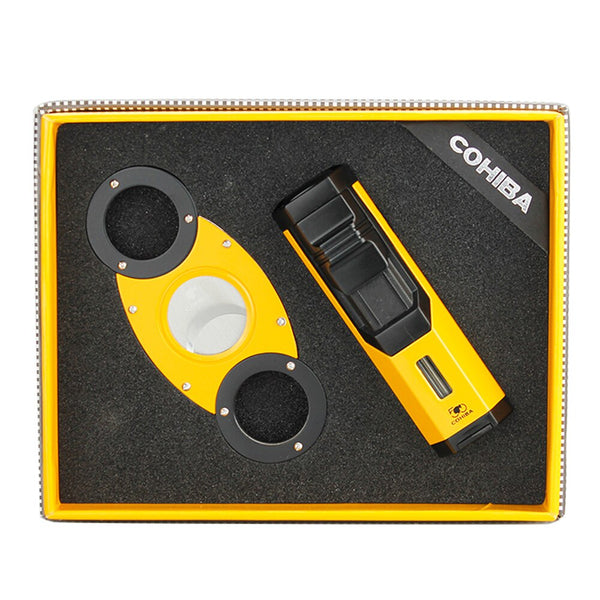 Introducing Our Top-Quality Butane Torch Lighter: Packed with Outstanding Features!
High Quality: Crafted with a sturdy metal body, our lighter is built to last. It also features a convenient fuel level window, allowing you to easily monitor your butane levels. Plus, the universal refill valve ensures compatibility with various butane brands.

Butane Refillable & Adjustable Flame Height: Refillable with butane fuel, our lighter offers great flexibility. You can adjust the flame height to cater to your specific needs, ensuring a precise and enjoyable lighting experience. Please note that for safety reasons, the lighter does not come filled with butane.

Super Powerful Flame with Large Flame Base: Say goodbye to struggles when lighting objects of any size. Our lighter boasts a super powerful flame and a large flame base, providing you with a wider surface area for effortless lighting. It's perfect for various occasions such as kitchen use, BBQ sessions, hiking trips, camping adventures, and, of course, igniting cigars and cigarettes.

Windproof Design: Never let windy conditions ruin your lighting experience again. Our lighter is equipped with a strong jet flame that can withstand gusts of wind. Enjoy a reliable and uninterrupted flame, no matter the weather conditions.

Elegantly Packaged for Gifting: Presented in an elegant gift box, our lighter makes a perfect gift for any occasion. Whether it's a wedding, Father's Day, birthday, anniversary, or any other special event, our lighter is a thoughtful and practical choice.
Choose our top-quality butane torch lighter and take your lighting experience to the next level. Ignite with confidence and style, and enjoy the convenience of its high-quality features.
Description:
Material: Metal
Color: Yellow/Black
Flame: 1 Torch jet flame
Fill the fuel type: Butane
Type: Windproof
Occasion: Cigar
Package:
Cigar Lighter *1
Cigar Cutter*1
Box*1